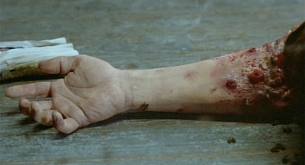 Tonight I have an interview with Dave Schraeder from Darkness on the Edge of Town, a paranormal radio show. In honor of such a deep, dark night (a new moon too!) I thought I'd share this particularly gruesome story about a couple of brothers who owned a funeral home in Pennsylvania and were arrested in 2008 for body part trafficking.
In 2008, in Philadelphia, Pennsylvania, Louis and Gerald Garzone, two brothers who owned and operated a funeral home, were found guilty of selling corpses to a black-market trafficker of body parts. The gruesome duo admitted to carving up nearly 250 body parts across the country for various purposes including dental implants, hip and knee replacements, and other medical procedures.
In an elaborate and grisly scheme, the brothers would sell the bodies or body parts to a man named Michael Mastromarino, who ran the company Biomedical Tissue Services. Mastromarino would collect bodies from several funeral homes in the New Your and New Jersey area. He would send a crew to cup up the bodies and then transport the parts to various biomedical facilities—at a hefty price. Tissue from a single body could be sold for as much as $4000.
The selling of bodies for medical purposes itself is not illegal, provided the family and/or the deceased have consented, and the body has been tested and certified to be free of disease. Most of the bodies sold by the Garzones and Mastromarino were given false names and documentation, received no medical testing, and in some cases, had not been stored or refrigerated properly.
Don't forget to tune in tonight for some truly morbid and bizarre stories on Darkness Radio!
http://www.darknessradio.com/