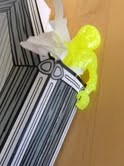 We have a winner! Ron Oliver, you've won the Horror Movie Madness giveaway. You'll be receiving your soon–it's going out it today's mail! Here's a sneak peak of what is creeping around in the big package coming your way, which includes copies of both of my books and some freaky fun things!
One of Ron's favorite horror movies is The Exorcist. In a competitive genre, The Exorcist is definitely a stand out. Thanks to all who entered, and don't worry if you didn't win!! See the other posts about the Spooktacular Giveaway Blog Hop AND watch for the Zombocalypse Giveaway coming later this week!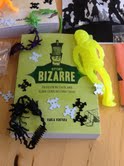 I'm just in a giving mood this Halloween season. I want to give YOU, dear reader, signed copies of each of my freaky trivia  books, The Book of the Bizarre and Beyond Bizarre, along with a grab bag of zombirific  Halloween splendor, including but not limited to stretchy zombies, bug bracelets, stickers, and grow-your-own maggoty worm things.
How, pray tell, can you win such a wonderful prize? It's easy! Do one or more of the following for a point to enter. No more than 6 points allowed per person. Each point counts as an entry (so if you do everything you have 6 x the chances to win.)
1. Follow my blog. (If you already do, just say so in your comment and you'll get the point.) (1 point)
2. Add me to your interests on facebook. You just click on my page, like it if you haven't already, and then to the right of the like button you'll see an a tab that you can click on. A drop-down menu appears, and you just say "add page to interests." (2 points)
3. Follow me on twitter. (1 point)
3. Comment with the answer to this question (2 points!):
What is your favorite horror movie???
Answer by October 21st, 2012. The winner will be announced on October 22nd.
Open to US residents only (if you live elsewhere you can enter if you want the prize to go to someone in the U.S. )