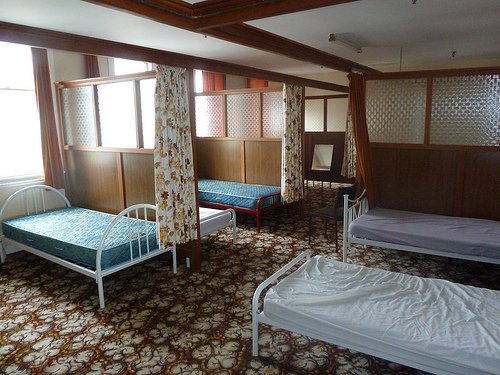 I just returned from a lengthy week off-the-grid at my sister's place, where I spent evenings looking into the starry abyss (for UFOs, of course!) and days swimming in the murky lake straight out of Stephen King's short story The Raft. The lake was once a blown out sinkhole caused by a mining explosion, and it even has a "plug" at the bottom that leads to an underground shaft. When we were young there was actually a raft floating in the middle of the lake, with a big chain attached to the bottom, that we would swim out to. Until the summer we read that short-story. After that, my sister refused to swim there and I was left swimming out on my own–much more boring. It is murky, icky, oozy, deep blue, icy-cold and completely isolated. In short, it was great! The perfect place for a grown-up-goth to spend her summer days.
Anyway, I got back and had a fun email in my inbox from a reader of my post about haunted places (5 Haunted Places I'd Love to Stay the Night)with a link to an article about some haunted college dorms.
Check it out! I know there are probably hundreds more out there, too!
http://www.thebestdegrees.org/7-college-dorms-that-are-allegedly-haunted/
Big thanks to Crystal for sending this article. And for all you freaks out there, feel free to email me your own freaky stories and links at varlaventura@gmail.com. I will try and post them, and who knows, you might just make it into my next book!