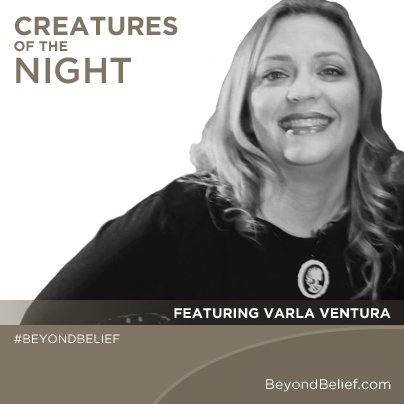 Should auld acquaintance be forgot…don't forget my face! LIVE on Beyond Belief on  Gaiam TV.  Come nurse your hangover with a little cure for what ails you: my peeling laughter and wicked antics.
Here is how it works. Click this link. On January 1st, this link will take you directly to the show. Before then, the link takes you to the main page for Beyond Belief, but once the show airs it will remain the direct link to my episode.
Beyond Belief with George Noory: Creatures of the Night with Varla Ventura 
If you want to watch it YOU MUST SUBSCRIBE. You can get a FREE 10-DAY TRIAL, and watch it any time or as many times as you want during that 10 days, plus any of the other episodes! After the 10 day period if you want to keep watching it, because you want to wake up to/fall asleep to the sound of my voice throughout the year, you have to sign up to GaiamTV.
Once you've signed up for the 10-day trial, you can stream the video of  me and George yukking it up over vampires, banshees, a little bit of Crowley, and other delightful horrors, through your computer, tablet, phone, etc.  Here's a little info about the show!
Creatures of the Night, Beyond Belief with George Noory
Banshees, werewolves, and mermaids are all the stuff of fantastical legends stretching beyond the limits of recorded history. But what if there was some truth to the tales of these mysterious creatures? Author Varla Ventura's passion is researching the bizarre and she reveals the truth behind the legends of several creatures of the night in this interview with George Noory originally webcast January 1, 2014.
 Varla Ventura is a lover of all things strange, freaky, and terrifying. She is the author of Banshees, Werewolves, Vampires, and Other Creatures of the Night and curates the Weiser Magical Creatures and Paranormal Parlor series of e-books. When not burning the midnight oil writing about weird news for her Blog of the Bizarre, she can be seen traversing the hidden cemeteries and phantom ships in the greater Bay Area. She can be found online at www.varlventura.com. 
Don't I look like a happy little freak? See more of me than you ever thought you wanted to.